"Here's Exactly How to Build A Perfect Aquatic Life Environment
For Your Marine Fish Pets . . . Without Having to Do It the Hard Way!"
"If you're utterly fed up with your LFS (Local Fish Store) giving you the wrong
advice - this is your one-stop saltwater fish guide to getting it right the first
time without spending an arm and a leg . . . !"
Attention: Aquatic Marine Saltwater Enthusiasts,

Stick around and you'll learn the methods to successful fish keeping, such as . . .
Your first baby steps to keeping saltwater fish and recognizing that proper planning is
required to establishing a successful marine environment . . .

As with any pet you have . . . there's responsibility. What's expected when maintaining
an artificial ocean environment within a confined space . . .

Choosing the type of saltwater aquarium can be the hardest decision - Coldwater,
Tropical, Marine (saltwater fish only) to mini-reef or micro-reef set-up . . .

How the simple choice of deciding what kind of filtering method you should use could
lead to the success or failure of keeping your fishy pets . . .

What's the Nitrogen Cycle - and why is it so important for saltwater fish pets . . . ?

. . . you're about to have a blast!

You want a newsletter with personality? Take Advantage of this COMPLIMENTARY
NEWSLETTER NOW . . . before I decide to charge for it ($47 Value).
"Reef Keeping Basics - The Newsletter"
A Newsletter For The Serious Reef Keeping and Saltwater Fish Hobbyist!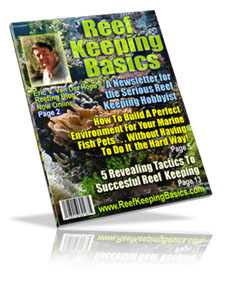 Newsletter Sign-up Form
Rest assured, that your email is 100% safe and
secure and will never be revealed to third parties
under any circumstances. You can also unsub-
scribe at anytime.

Privacy Promise:
We will never sell, never rent,
never exchange, trade or disclose your details to
any company or individual - Period!
If you have comments, thoughts or questions,
do not hesitate to contact me at the following:
Email Me By Clicking Here
.
MAJOR ANNOUNCEMENT . . .
Introducing a very informative, concise and never before seen book on - Saltwater and Reef
Keeping - is now at a Computer near you!
"Reef Keeping Basics - Successful Reef Management"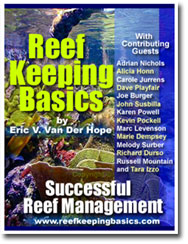 Get Your Copy By Clicking Here

Exactly what kind of book is it . . . ? It will be nothing like you've seen from the bookshelves
of your LFS (Local Fish Store) or even local bookstore or which you may have seen browsing
the internet . . .


"A Fun, Fully Illustrated, Concise Manual - A Must Have
For All Saltwater Fish Pet Hobbyists, Whether You Are
A Beginner, Intermediate or Advanced Saltwater Fish
Enthusiast!"


This fully illustrated, with 700+ pages and over 345 images, manual will explain:

- A Step-by-step approach that will guarantee your success at Saltwater Fish Keeping . . .

- The methods to increase your chances of maintaining a balanced environment to keep
your fish pets healthy . . .

- The Steps to implement to ensure proper planning of your fish pet home - from choosing
the right aquarium, placement of your tank to researching the potential cost in maintaining
a complete setup . . .

- The revealing tactics used to lesson the cost and receive full store discounts when pur-
chasing items and products for your saltwater fish pet setup . . .

- I guarantee that the money you save when you purchase the equipment, test kits and
your fishy pets, will more than make up for the cost of this manual - many times over . . . !

This is just the tip of the 'reef' so-to-speak of what you will discover throughout the pages of
this revealing book . . .


"A Revealing Step-by-step Manual Geared To Laying The
Proper Foundation For Saltwater Fish Hobbyists Who
Wish To Experience The Fascinating World of The
Saltwater Fish Hobby."



IMPORTANT TO TAKE NOTE OF . . . :

As a Subscriber to our newsletter, you will AUTOMATICALLY be eligible to receive a 30%
Discount on this publication!

That's right . . . If you are a subscriber to our complimentary eZine - "Reef Keeping Basics"
A Newsletter For The Serious Reef Keeping and Saltwater Fish Hobbyist, (valued at $79.00,
but you get it completely FREE of charge!), you will get an immediate 30% discount on our
Pre-Release . . .

This totally complimentary newsletter is:



"A Successful Saltwater Fish Hobbies Cheat Sheet
Guide . . . A newsletter Geared For The Saltwater Fish
Pet Hobbyist Planning On Experiencing The Great Reefs
Of The Oceans In Their Own Home Or Office!"




This offer will NOT be given to anyone else - just you, my subscribers . . . !

SO, ACT NOW . . . This offer will not last long - take advantage of this FREE offer NOW
before we change our mind to charge it . . . ! Sign up to our newsletter and benefit from the
tips and techniques within it and ultimately receive an enormous 30% discount on our New
Release of the book on Saltwater Fish and Reef Keeping.

Simply enter the required info in the subscriber box above. You will be instantly subscribed
and be automatically put on our Special Discount List when our book is published!

You will me notified immediately upon our Pre-Release, before it goes out to the public.
Hurry up and take advantage of this opportunity NOW, before we change our minds on this
crazy idea!



If you need a hand with anything, just email me at the following address: Press here for email
support I'll be glad to help out.

I hope our paths will cross some time in the future! Thanks for
stopping by.

Why not email me and introduce yourself? Do you have questions about Saltwater Fish
Keeping . . . ? Do you just want to say 'hi' or tell me something about yourself? I can't wait
to hear from you! :-) So email me . . . !